Oh C
.
Mar 20, 2013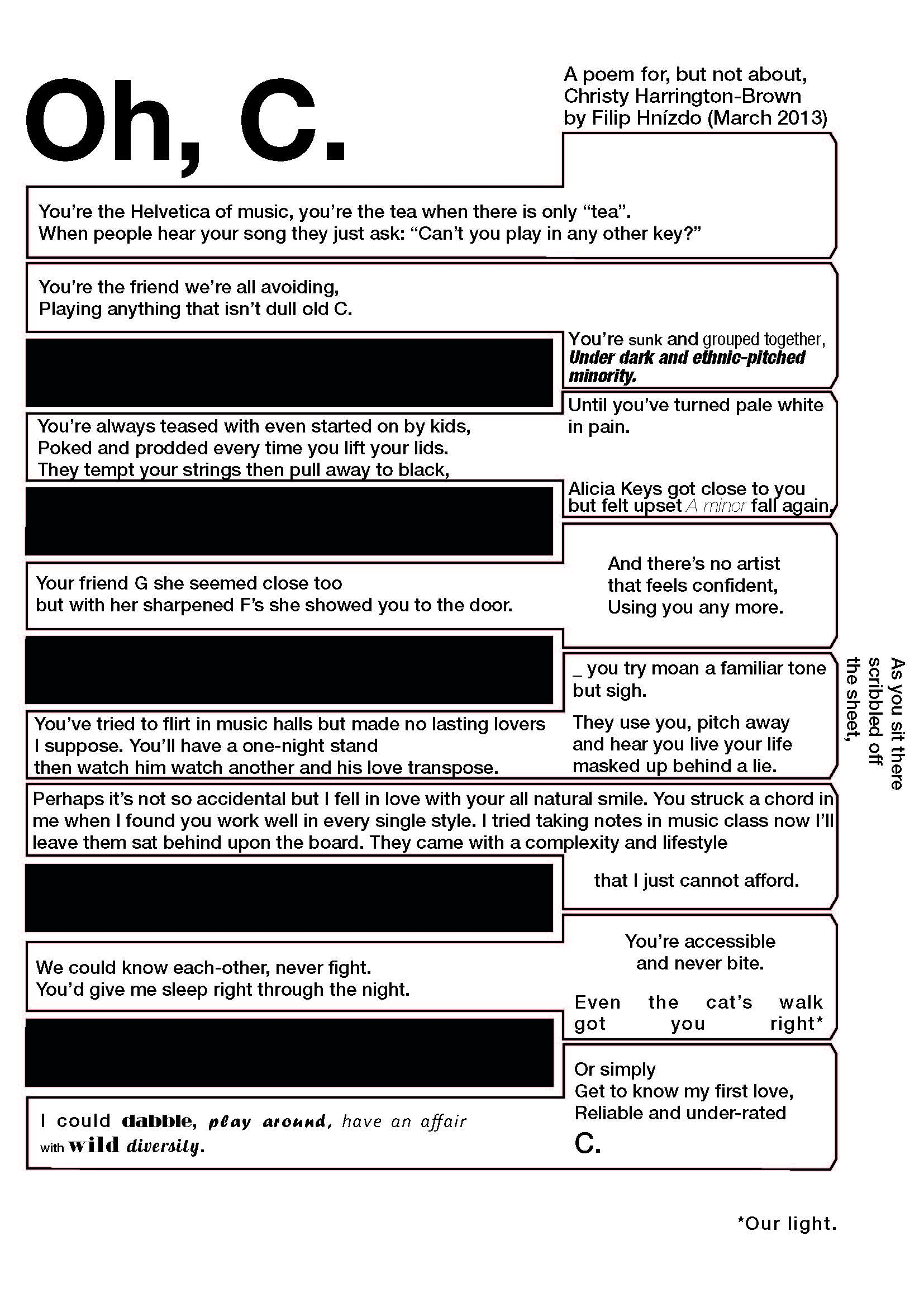 You're the Helvetica of music You're the tea when there is only "tea".
When the people hear your song they just ask Can't you play in any other key?
You're the friend we're all avoiding Playing anything that isn't dull old C.
You're sunk low and grouped together Under dark and ethnic-pitched minority.
Your friend G she seemed so close but with her sharpened F's she showed you to the door. And there's no artist that feels confident, using you anymore.
You're always teased with even started on by kids.
Poked and prodded every time you lift your lids.
How they tempt your strings then pull away to black Until you've turned pale white in pain.
Alicia Keys got close to you but just felt sad a minor fall again.
You've tried to flirt in music halls but made no lasting lovers I suppose. You'll have a one-night stand then watch him watch another and his love transpose.
As you sit there scribbled off the sheet you try moan a familiar tone but sigh. They use you, pitch away and hear you live your life masked up behind a lie.
Perhaps it's not so accidental but I fell in love with your all natural smile. You struck a chord in me when I found you work well in every single style. I tried taking notes in music class now I'll leave them sat behind upon the board. They came with a complexity far greater than the kind I can afford.
We could know each-other, never fight You'd let me sleep right through the night. You're accessible and never bite, Even the cat's walk got you right. Our light. … I could dabble, play around, have an affair with wild diversity. Or I could get to know my one first love, reliable and underrated C.